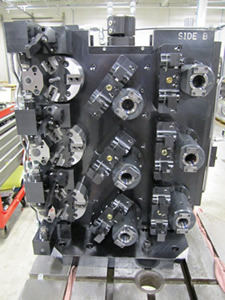 Turn-Key Solutions is an industry leading in providing custom workholding fixtures. Our extensive background in metal removal allows TKS to design and manufacture the best fixturing solutions available.
Our in-house engineering staff utilizes the latest CAD/CAM and FEA software to securely and reliably grip your component without distortion. Our company philosophy is to keep engineering, manufacturing, assembly and testing in-house to ensure that your fixturing will exceed your expectations at an affordable price.
TKS can also offer value added options like tooling selection, CNC programming, installation, PAPP or a complete turnkey on our floor with your CNC.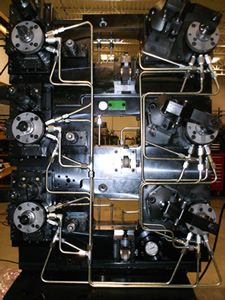 Turn-Key Solutions workholding solutions include:
Custom live hydraulic workholding fixtures
Custom closed  circuit workholding fixtures
Custom trunnion workholding fixtures
Custom manual clamping fixtures
CMM verification of datum points/location elements
Verification of customer supplied tooling package to ensure a seamless installation
CNC programming (VMC, HMC or lathe)
Installation on your floor with a TKS supplied tooling package or your tooling
PPAP on your floor with a 1.67 or 2.0 CPK
Complete Turn-Key Solution that includes fixture design, manufacture, build, part processing, tooling selection, CNC programming and a runoff on your floor
VMC Workholding
HMC Workholding